Travelling
How to reach the Island of Spetses
Athens International Airport (AIA) is located 33 km northeast of Athens, and the Piraeus harbour is in the southern part of Athens. The travel time from Athens Airport to Piraeus is normally 1-2 hours by bus (X96; €5) or taxi (€20-30). The travel time by hydrofoil from Piraeus to Spetses is around 2-2.5 hours by high-speed ferry or 4.5-5 hours by conventional ferry.
* From Athens International Airport - to Piraeus:
1. The metro is probably the best option to get to Pireaus from the airport. The metro leaves from a station in front of the arrivals section. To reach Piraeus from the airport by metro, take the blue line from the airport (there is only one line that leaves the airport) and get off at Monastiraki station. Then take the green line (line 1) to Pireas Port and get off at the last stop. From there, the Hellenic Seaways departure place is less than a 5-minute walk. The website of the metro company is http://www.ametro.gr/
2. The Express Bus (X96) leaves from the designated area located at the inner curbside of the Arrivals Level, right outside the Intra Schengen area, between doors 4 and 5. Take the X96 and get off at the last stop, which is again very close to the place where the flying dolphins depart. It takes on average about 1.5 hours to reach Pireaus from the airport by bus.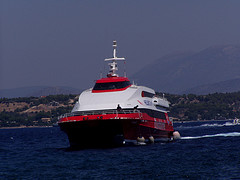 For more information the web site of the company that operates the public buses is www.oasa.gr
Ticket price: €5.00 For ONE trip, from or to the airport.
Where to buy: From the bus driver, or all metro stations and public transport ticket outlets.
OASA site or contact the OASA (Athens Public Transport Organization) call centre on 185 (Monday to Friday: 06:30-23:30; Saturday, Sunday and Bank Holidays: 07:30-22:30).
3. You can also take a taxi from the airport, although as there are special lanes for buses, it is not faster to take a taxi.
Price Airport-Piraeus: €20-30, depending on travelling time and amount of luggage. You normally pay extra for luggage. The taxi queue is normally quite long.
* From Piraeus - to the Island of Spetses:
By boat.. The high-speed ferry trip takes about 2 hours and a one-way ticket (economy fare) costs about € 28-30.
Please make sure you make a reservation for the boat
For additional information and reservations, please visit the website of Hellenic Seaways