Application and Registration
Who should be attending?
We expect applications mainly from PhD Students and young Postdocs. Following the deadline date for applications, the selection will be based on the research interests of the Applicants and the quality of the abstracts they submit, and a broad geographic distribution will be ensured.
The participants who will give the short oral presentations will be selected from the abstracts, and from the posters. Given the field of research covered by this Workshop, we expect many applications from both western and eastern European countries.
Applicants who send an abstract for the presentation of a poster (or a short talk, if selected) will be favoured. Abstracts will be compiled in the program / abstract book.
Applications must include a short CV and your reasons for wishing to participate in the Workshop; as indicated, inclusion of an abstract is highly recommended.
Attendance is limited to 80 Participants. Following the deadline for application submissions, the Participants will be selected on the basis of an Applicant's CV and scientific background, and the relevance of the Workshop topics for their research studies.
The link to the application form is presented on this webpage now.
Deadline
The deadline for applications is March 26, 2010.
Costs
The total all-inclusive registration fee for young scientists: € 375
Fellowships
20 FEBS Youth Travel Grants will be available for those who have problems in finding funding for the Workshop.
10 Transcontinental YTFS (Transcontinental Youth Travel Grants) will be available for young scientists (PhD and Post-Docs within five years of obtaining their PhD) from Africa, Asia, North and South America to participate in European Advanced Course and Workshop events. For details see www.febs.org
Applications for a FEBS Youth Travel Grants should be accompanied by:
Proof of your membership of a national FEBS affiliated society.
For transcontinental YTFs: should be a student at an institution of higher learning in a country where there is a IUBMB-related international society such as FASBMB (Africa) / ASBMB (North America) / PABMB (South America & Canada), FAOBMB (Asia).
A letter of recommendation from your Supervisor or Laboratory/Group Leader
For transcontinental YTFs: Letter from dean from instititute you are working in as a proof of institutional affiliation
Submission of an abstract is mandatory
These can be sent to the Workshop secretariat by fax (+31 30 2522478), or if possible by e-mailing a .pdf file to science.secr.me@uu.nl. A number of the Fellowships will be reserved for participants from eastern European countries.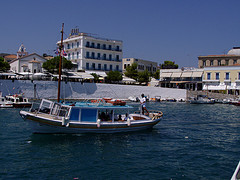 Notification of acceptance
We will notify all accepted Participants, including whether they will receive a FEBS Youth Travel Grant Fellowship or not, by March 30, 2010, by e-mail. Participants are urged to make travel arrangements well in advance as the low-priced flights will be quickly overbooked.
Payment should be made before April 30, 2010, by direct bank transfer to:
Account name: KWA Wirtz, 2010 Spetses Workshop
Bank address: FORTIS Bank Nederland, Traay 111, NL-3971GD Driebergen
Account number: 98 45 16 832
Bankcode (Swiftcode): FTSBNL2R
IBAN: NL14FTSB0984516832
If you encounter any problems with the bank transfer, you can send a bank cheque, payable to Prof. Karel W. A. Wirtz.
Accomodation
The Workshop will be held in the Anargyrios and Korgialenios School of Spetses, Greece. Spetses is a small island in the Saronic Gulf, about one hour by boat from Athens. The Anargyrios and Korgialenios School consists of several large Victorian buildings that are located in beautiful surroundings, adjacent to a sandy beach. The main building has been completely renovated recently and contains an excellent lecture room and a complete kitchen for breakfasts and lunches. The other buildings, part of which have also been renovated, will accommodate all of the Student participants. The evening meals will generally be spent in smaller groups in the small town close by and will be refunded.
The Speakers will be housed in the Spetses Hotel
The Island of Spetses
Ferries and high-speed hydrofoils arrive regularly from Piraeus and Tyros and Leonidio and Nafplion on the Peloponnese. The use of motor vehicles is severely restricted on the island, so the public transportation system is generally provided by horse & carriage and water taxis. Some conventional taxis and buses are in operation, but they require a special license. The inhabited area is so compact that most people use scooters, bicycles or walk throughout the island. The port is also known as Dapia. Trails encircle the island and total about 25 to 30 km; famous beaches include Agios Mamas, in the centre of town, Agioi Anargiroi and Agia Paraskevi at the back of the island, Zogeria and two beaches close to the town, College beach and Agia Marina, both offering watersports.